Why Choose Florida Risk Partners and What is Partnership Redefined?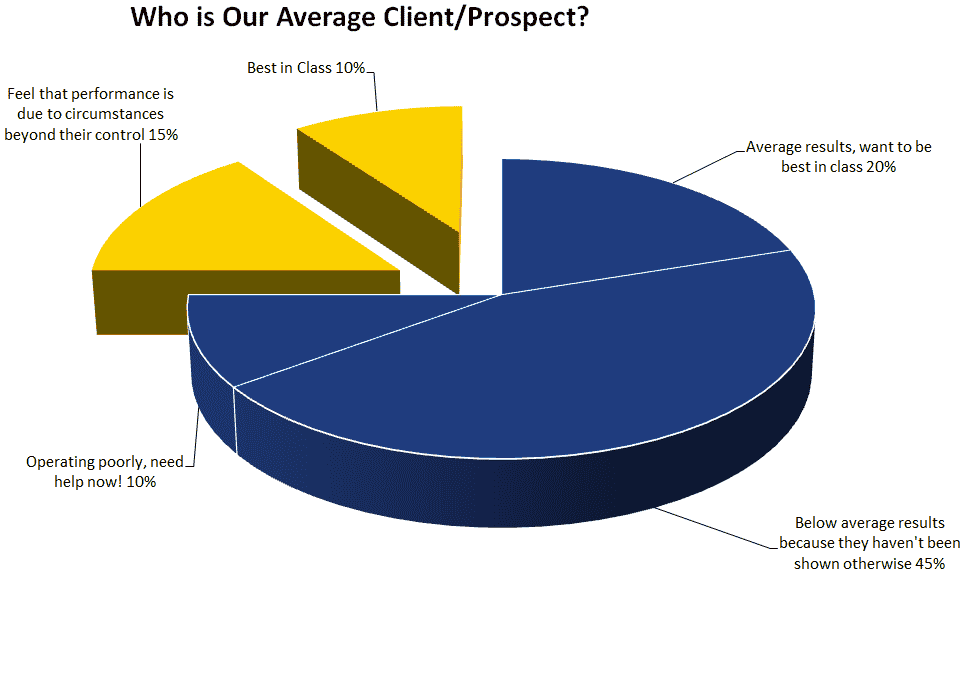 Every company is different.  However, after analyzing our successes, we have been able to define some characteristics that are the same.  They are the people that have had the most success with Partnership Redefined.   The pie chart is a good visual exhibit of those companies.
Companies we more than likely won't represent:
your company is already getting best in class results, there is really no need to engage with us unless you are looking to change the firm that represents you in the insurance placement arena.
you perceive that you are a victim and that your company's performance is due to circumstances beyond your control, you represent the 15% of companies that will not benefit from our services.  Those companies simply do not have the mindset necessary to drive the cultural changes needed to have a positive impact their TCOR – Total Cost of Risk.
Our best examples of Partnership Redefined:
your company is operating poorly and you recognize that you need help right now (10%)
your company is currently getting average results and wants to get better (20%)
your company is getting below average results because you have never been shown otherwise (45%)
YOU are the reason our firm exists!
Florida Risk Partners has invested heavily in the technology needed to provide you with the data, tools and human capital needed to drive change in your organization.  For example, by offering a complimentary experience mod review, we can assemble data that you likely haven't seen before.  By hosting an online training portal for our clients, they can have new hires go through orientation, conduct "train the trainer" seminars or simply implement a training program that has never existed.  They can do this without having to spend a dime more than they are already spending.  In addition, they have the ability to monitor, test and document the results!  Through payroll stuffers, tool box talk collateral and complete industry-specific safety program construction, we are able to provide our client partners with things they would otherwise have to construct from scratch or pay to have created.  This is all part of Partnership Redefined!  It's included in our basic process and uses money you are already spending!  In most cases, we are actually able to add money back to your bottom line by improving processes and efficiency by outsourcing your risk management function to us.